Want to know which are the best flight booking websites in India?
Of course yes! then go no further here we have listed down all the top flight booking sites that you can use in India and book tickets hassle-free.
But you might be wondering..
Are there any advantages of using any of the websites to book air tickets in India?
This is an obvious question you would ask.
because all domestic and international carriers operating in India provide online reservations too.
Then, why should we utilize the services of a travel agency website?
Good question.
I will answer that later in this article. First, let us know which are the top 10 flight booking websites and apps in India and why.
Top 10 Flight Booking Websites & Apps in India
There are several flight booking websites and apps in India. However, the largest market share belongs to these top 10 flight booking websites.
1. Makemytrip.com

Book Your
Air Ticket
Makemytrip.com holds about 40 percent of India's online travel market.
Thus it ranks as the best flight booking website and app in India.
In 2009, Makemytrip.com got the accolade as top consumer brand of India.
In fact, Makemytrip rightly deserves the accolade as a pioneer of India's online travel services industry.
It is operating since 2000. The company also has several brick-and-mortar offices across India.
Makemytrip has an app that enables flight booking on the move.
It has co-branded credit cards with several leading Indian banks too.
---
2. Akbartravels.com
Akbartravels.com is a website by India's largest and eponymous travel company.
Akbar Travels also operates from 73 offices across India. Of these, 55 hold certification from the International Air Transport Association (IATA).
The remaining are in process of getting IATA certified.
Akbar Travels began as a small travel agency in Kerala in 1978.
Since, the company is growing rapidly. It now has a significant presence in the Middle East.
The website Akbartravels.com is very popular among resident and Non-Resident Indians for booking flights.
Akbartravels has offices at several airports across India and select cities abroad where passengers booking online can collect tickets or reschedule flights.
Also Read: Top 10 Cab Services In India For A Smooth Ride
---
3. SOTC.in
SOTC.in is a subsidiary of Thomas Cook India Ltd and the website of SOTC Travel Ltd. The company is in the travel business since 1949.
It is one of the highly respected travel companies of this country.
Hence, you can get the best deals while booking flight tickets from their website.
The SOTC website has a unique feature which allows you to specifically search for cheapest airfares.
Additionally, you can set own airfare on the website for travel to a particular destination.
You get automatic email and SMS alerts when airfares drop and match the amount you have set.
You can get some amazing bargains for airfares from SOTC.in this year: the company is celebrating its 70th anniversary.
Hence, special offers on flight tickets, holiday packages, hotel reservations and other travel needs are available through this top website.
Another unique advantage of booking flights from SOTC is the 'Engage' app.
It was launched in 2018. Engage is the first app that allows passengers to modify their tickets, view status of unconfirmed tickets, alter travel plans and perform other related activities.
Also Read: 111 Amazing Things to Do in India – Your Ultimate Guide to India
---
4. Goibibo.com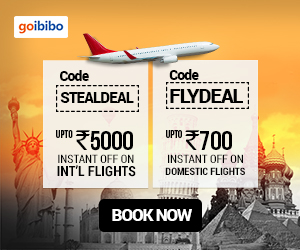 Goibibo.com is an excellent and top-flight ticket booking site in India.
In fact, it is the best website for booking international flights, by my experience.
Goibibo also displays airfares from Low-Cost Carriers (LLCs) which makes it very popular among people who want cheaper flight tickets.
You can get various special offers and promotions for flight tickets from Gogibibo.com daily.
This website has agreements with banks, credit card issuers and Amazon Pay for offering such discounts. They are available on international and domestic flight bookings.
Additionally, Goibibo has a feature that allows users to sign-in to their app and website using WhatsApp, the most popular instant messaging app in India.
Therefore, you can modify flight reservations or book air tickets by logging in through WhatsApp as well.
Also Read: Top 12 Best Hotel Booking Sites And Mobile Apps in India
---
5. IRCTC.com
As the name suggests, IRCTC.com is the website of Indian Railways, Catering & Tourism Corporation.
Maybe this will surprise you- IRCTC.com also offers online flight booking to domestic and international destinations.
This feature is also available on IRCTC app which is very popular among Indians.
Why does IRCTC.com rank among the list of top-flight booking websites and apps in India?
Simply… because They offer free travel insurance up to Rs.5 million at no extra cost, depending upon your flight ticket.
Also, IRCTC.com charges the lowest 'convenience fee'- or service charges.
Also Read: How to Book 100% Confirm Tatkal Ticket Fast Online
---
6. Cleartrip.com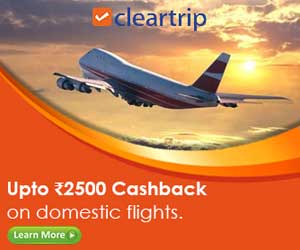 Cleartrip.com is the most user friendly flight booking website in India. It works on the simple principle of flight aggregation.
Meaning, when you search for flights, Cleartrip.com gathers information such as schedule and fares from various airlines. This makes selection faster.
However, Cleartrip.com does not offer lowest fares to any destination as such.
As I mention, it merely collects and displays fare details from various airlines.
However, this process is very speedy and your search results will show up within a few seconds.
Cleartrip.com is also part of Google Flights- a feature from the world's largest search engine.
When you search for flight bookings on Google Flights, the website displays available schedule and fare options.
It also has a tab you can click to buy flight tickets from Cleartrip.com
---
7. Cox & Kings
Cox & Kings is India's first ever travel company. Cox & Kings is in the travel business for over 250 years.
They have a superb website where you can book flight tickets.
Upon keying in origin and destination of a flight, Cox & Kings website displays at least 20 results. Some of these will be from airlines you may never have heard about.
Another excellent advantage with Cox & Kings website is the feature to email a particular flight's details.
Simply click on the 'email' link that appears next to various flight options. Fill in email ID of the person you wish to send it.
Also, Cox & Kings displays the lowest fare available for a flight in the form of a banner.
---
8. Yatra.com
Top flight booking website Yatra.com offers a couple of unique features.
First, Yatra.com allows you to hold a flight ticket and fare without actually paying for it.
This enables you can avail the same fare even if prices soar. Understandably, there are limitations about how long you can hold a flight ticket and price.
Secondly, Yatra.com has a feature 'Yatra Assure.' By using this feature, you can get refunds for your airfare if prices drop for any reason.
The 'Yatra Assure' feature is particularly useful during off-peak seasons. Airlines drop fares with the hope of getting more passengers for certain flights. Yatra.com passes this benefit to you.
---
9. Thomas Cook India
Thomas Cook India is a frontrunner in the country's travel industry since 1881, though the company began operations in the UK much earlier.
This 127 year old company's website offers flight bookings too. And it has some unique features.
You can plan a journey by looking up their lowest fare calendar that appears on Thomas Cook India website.
Simply key in your airports of origin and destination to check when you can get the lowest rates for booking flight tickets.
Also, you can set alerts for the lowest fare. As soon as the fare drops, you get an SMS or email alert.
---
10. Balmer Lawrie Travel
Indian government owns Balmer Lawrie Travel. It is a Miniratna-I category enterprise and part of the Balmer Lawrie & Co Ltd group that operates in India since 1867.
As a state-owned company, Balmer Lawrie Travel handles flight bookings of officials of Indian government.
Due to sheer volumes, they are often able to get lower airfares from various airlines.
What's more? You can get air travel insurance directly from Balmer Lawrie Travel. Known as Balmer Flight, this insurance is available online.
You can buy travel insurance for a single flight or a specific period of time as a frequent flyer.
This flight insurance is available in various categories- from regular to premium, depending upon amount.
---
Why Websites and Apps for Air Tickets?
Now to address the question about why to use a flight booking website instead of reserving directly from an airline.
There are seven airlines that operate within India and countless others offering flights to foreign destinations.
Each airline has its own website that provides online flight reservations. Hence, it makes sense to book flights directly from airlines.
However, booking flights from airline websites have several drawbacks.
Firstly, you need to visit websites of several airlines to find flights that suit your schedules.
This involves keying in your airport of origin and destination as well as date of travel.
Secondly, you also want to know the best available airfares.
It takes lots of time to search individual airline websites for best and cheapest flights.
You might miss that low fare and flight by the time you finish comparison. To avoid such scenarios, it makes sense to buy air tickets from flight booking websites and apps.
As we have seen, flight booking websites offer several features that are not directly available from airlines.
For example, airline websites do not have low fare calendars or allow you to hold tickets and fare sans payment.
Wrap Up
There are several ways to get cheaper flight tickets from these websites. One is with cobranded credit cards, during special promotions and anniversaries.
Further, most of these top 10 flight booking websites also offer cheaper fares under the 'Udan' scheme of the Indian government.
Under 'Udan' scheme, you can get flight bookings for as low as Rs.2,500 for select destinations.
The next time you want to book a flight ticket, try any of these websites. In fact, the best way to use a top flight booking website is by registering online as a user.
Create an account in your name. This enables faster access and bookings. They also send email alerts when airfares drops and other promotions.